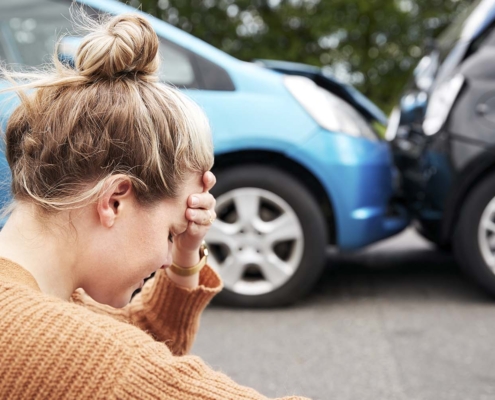 Back pain is a common discomfort many individuals feel at some point in their life. Whether it is due to a strain or poorly positioning yourself in a chair, back pain comes and goes and can usually be treated with some at-home remedies. Now, unlike the back pain you might experience from slouching or the heavy lifting you might do at work, the pain you suffer in your back as a result of a car accident might be much greater in severity.
You see, when you suffer a traumatic back injury, it can "cause the spine to become overly compressed, which in turn can cause an intervertebral disc to rupture or herniate, exerting pressure on any of the nerves rooted to the spinal cord" [Source: National Institute of Neurological Disorders and Stroke]. And when the nerves in the spine become "compressed or irritated, back pain and sciatica may result." For some who suffer from sciatica, they might experience pain, numbness, and even weakness in their leg which can make completing everyday tasks extremely difficult to do.
A traumatic back injury may also result in a person suffering from chronic pain which can affect their ability to work, care for young ones, and carry out day-to-day tasks. Some individuals who suffer from a back injury as a result of a car accident even find themselves having to quit their jobs which can cause the pressure of meeting financial demands to be displaced onto another.
Why you should hire an attorney if you suffered a back injury after engaging in a car accident in Gary, IN?
There are many reasons why you should consider hiring a car accident lawyer in Gary, IN after suffering a back injury. Did you know many car crash victims are often entitled to recover more money than what the insurance company has offered? Were you aware that you are permitted to take legal action against the other driver in the event he or she was engaging in negligent behavior? The fact is, the average accident victim is not aware of this which is why anyone who has been involved in a wreck in Indiana is encouraged to speak with a lawyer following any type of automobile accident.
At Marshall P. Whalley & Associates, PC, we can help you understand what your rights are, how much your injuries are worth, and what course of action would be best to take in order to recover the funds you are entitled to receive. You may be eligible to collect for the pain and suffering you have had to endure, the medical bills that you are now expected to pay, and even the lost income if your injury has resulted in you being unable to work. If you would like to schedule a time to come into our and speak with an experienced lawyer, contact us now at 219-769-2900.
You can also visit Marshall P. Whalley & Associates, PC at:
51 W. 112th Avenue
Crown Point, IN 46307
Phone-219-769-2900
Toll Free-855-442-7211
Fax- 219-769-2995
Website: www.marshallslaw.com