Malpractice Attorneys Prosecute Surgical Error Cases
Providing skilled representation for injured patients in Indiana, Illinois and Michigan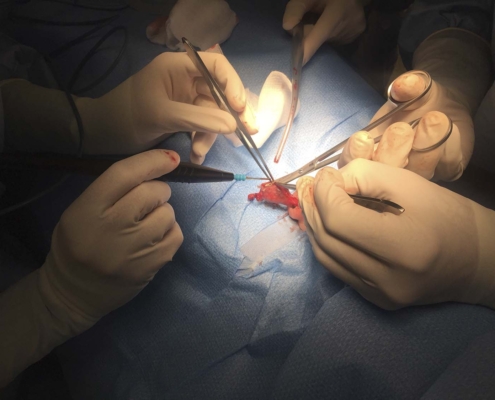 Many patients are understandably nervous about "going under the knife." But when surgery promises to prolong a life or relieve suffering, patients often overcome their fears and place themselves in the surgeon's hands. When those hands cause harm, injured patients are entitled to compensation. For more than 30 years, Marshall P. Whalley & Associates, PC has helped victims of surgical errors pursue damage claims. We focus our knowledge and resources on delivering sufficient relief to compensate clients for the losses they've endured.
Common surgical errors — "never events" happen too often!
Surgical professionals have a name for inexcusable errors. They call those mishaps "never events," because they should never, ever happen. These include:
Surgery performed on the wrong body part.
Surgery performed on the wrong patient.
Wrong surgical procedure performed on a patient.
Unintended retention of a foreign object in a patient after surgery.
Studies indicate that approximately 4,000 of these "never events" occur each year. They cause unnecessary suffering and even wrongful death. In addition to "never events," there are mistakes that could happen regularly, and only the vigilance of each member of the surgical team prevents them.
Examples include:
Anesthesia errors — Too little gas may allow the patient to awaken during surgery, while too much can cause asphyxia, with dire consequences.
Incision errors — Nicking a blood vessel or a nerve can put the patient in peril.
Postoperative infections — Failing to monitor a patient can lead to life-threatening blood sepsis.
What are the causes of surgical errors?
Hospitals have instituted protocols for preventing medical malpractice, especially "never events." For example, many hospitals allow anyone on the surgical team, not just the surgeon, to call for a timeout if concerns arise about the procedure. This protocol has been successful in limiting surgical mistakes often resulting from:
Haste — Rushing to get through a procedure often endangers the patient.
Inattentiveness — Unfortunately, doctors and nurses often have things on their minds besides the operation.
Technology problems — As surgeons increasingly rely on technology, any kind of tech malfunction can have serious consequences for the patient.
If you're suffering the effects of a surgical error, contact our medical malpractice attorneys
No surgical patient is guaranteed a favorable outcome, but all patients should be able to hold negligent surgeons accountable. If you or a loved one sustained an injury due to a surgical mistake, speak with an experienced medical malpractice attorney. To schedule a free consultation, call Marshall P. Whalley & Associates, PC at 219.769.2900 or contact our Crown Point office online.