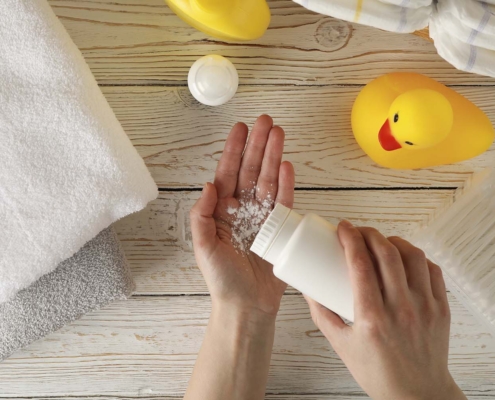 If so, here's what you need to do?
When Johnson & Johnson shipped out its batches of baby powder sometime around 1971 that contained the ingredient talc, consumers were unaware that the baby powder that has been trusted for decades contained small amounts of asbestos. If you know anything about asbestos, then you know it has been identified as a human carcinogen, which is something that can cause cancer. When exposed to this particular carcinogen, the small fibers it is comprised of can "get trapped in the lungs and remain there for a long time" [Source: The National Cancer Institute]. These fibers can "cause scarring and inflammation, which can affect breathing and lead to serious health problems."
Aside from an individual suffering from respiratory issues when exposed to large amounts of asbestos, the carcinogen has also been linked to causing mesothelioma. Mesothelioma "is the most common form of cancer associated with asbestos exposure." Although the company claims that the talc found in its baby powder is safe for use, between 1971 and 2000, "the company's raw talc and finished powders sometimes tested positive for small amounts of asbestos and that company executives, mine managers, scientists, doctors, and lawyers fretted over the problem and how to address it while failing to disclose it to regulation or the public," cites Business Insider.
After failing to warn consumers of the potential health conditions they might develop from using the baby powder containing the tainted talc, the "135-year-old baby powder line" was scrutinized and Johnson & Johnson was named as the defendant in hundreds of lawsuits filed against it. While trying to keep its dignity intact, the company has yet to admit its talc contained asbestos despite the lawsuits it was required to pay out on. Just recently, the company was ordered to pay $29 million to a dying woman in California who accused it of causing her to suffer from a strain of cancer [Source: The Inquirer].
Has your health been affected by Johnson & Johnson's baby powder?
If you were recently diagnosed with cancer and you blame J & J's baby powder for it, you are encouraged to contact Marshall P. Whalley & Associates, PC to speak with a Hammond, IN personal injury attorney. While many individuals assume that they are barred from filing suit against the company as they were diagnosed with cancer some time ago, the state of Indiana has set its statute of limitations for product liability claims at two years. This means you have two years from the date you knew or should have known you suffered an injury or illness after using a hazardous or defective product.
Now, there is plenty more to learn about product liability lawsuits and what you'll need to prove the company was responsible for your illness so to be sure you receive accurate information, we recommend you contact our office as soon as possible.
Marshall P. Whalley & Associates, PC is located at:
51 W. 112th Avenue
Crown Point, IN 46307
Phone-219-769-2900
Toll Free-855-442-7211
Fax- 219-769-2995
Website: www.marshallslaw.com