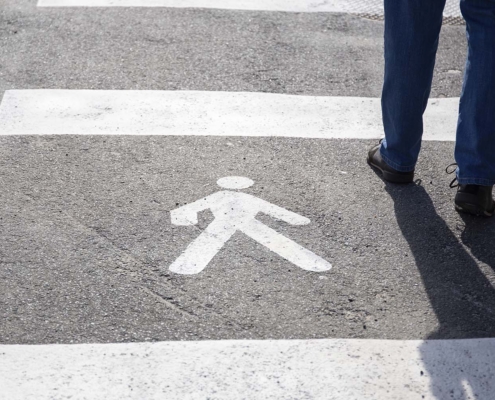 Although the National Highway Traffic Safety Administration (NHTSA) reported that pedestrian deaths slightly decreased from 2016 to 2017, there are still thousands of lives that were taken and several more that suffered injuries in pedestrian-related accidents that occurred. The fact is, pedestrians, unlike motorists, have no form of protection when involved in an accident which means their injuries are likely to be much more serious when hit by a vehicle. And although pedestrians are sometimes the ones to blame for causing an accident, a large portion of those that transpire are caused by motorists who fail to follow one or more traffic laws or neglect to keep an eye out for those who might be crossing the street.
If you were recently involved in an accident, whether it was while you were crossing the street, out for an evening stroll, or simply trying to get to your vehicle and you suffered injuries as a result, there are legal steps you can take to help you recover compensation for your losses. The first thing you will want to do is contact our office, Marshall P. Whalley & Associates, PC so that we can assess your case and determine if litigation is the most effective way of handling your incident. Something to keep in mind is that injured pedestrians don't always have to rely on filing a lawsuit when looking to collect the compensation they deserve. There are also other ways you can go about collecting the money you are due.
You see, in the state of Indiana, drivers are required to carry a minimum of $25,000 per person and $50,000 per accident for bodily injury liability insurance coverage [Source: Source: Geico]. Given that the state follows at-fault insurance laws, you would be entitled to collect compensation under this portion of the negligent driver's insurance policy.
Understanding Bodily Injury Liability Insurance
Bodily liability insurance coverage pays for when a driver causes a car accident that injures another, whether it be another driver, pedestrian, or a passenger in their vehicle [Source: Allstate]. It will pay for things like medical expenses, lost income, and even cover certain legal fees for the driver if you choose to sue them. While this type of insurance coverage can be helpful to a victim, suppose the driver was only carrying the minimum limits which we highlighted above. When you begin to add up the cost of medical care, hospitalization, medication, etc. that you received and many still need, the amounts may exceed what the driver's policy is going to pay. And what about the income you were unable to earn as your injuries put you out of work?
If the insurance policy isn't enough to cover your medical expenses, how are you supposed to recover money for lost wages?
That is where Marshall P. Whalley & Associates, PC comes in and can be of some assistance. Not only can we help you when dealing with the insurance company, but we can also assist you in taking the necessary steps to file a lawsuit against the at-fault driver. While some feel guilty for wanting to take legal action, the fact is, the driver's actions are what led to you suffering both physically and financially and they should be held accountable for their actions.
With that in mind, if you would like to learn more about filing a personal injury lawsuit and how Hammond, IN personal injury attorney Marshall P. Whalley can help you recoup the maximum amount of money that can help you afford your medical expenses, reimburse for your lost wages, etc. contact us today at 219-769-2900 to schedule an initial consultation.
Marshall P. Whalley & Associates, PC is located at:
51 W. 112th Avenue
Crown Point, IN 46307
Phone-219-769-2900
Toll Free-855-442-7211
Fax- 219-769-2995
Website: www.marshallslaw.com