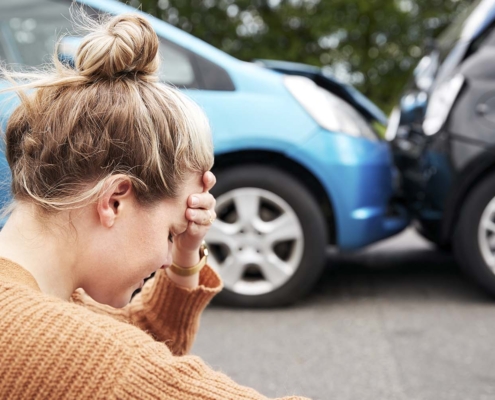 After an insurer has assessed the damage a vehicle has sustained in an automobile accident and determines that the "cost to repair the car exceeds the value of the car," it will likely consider it totaled. For example, if your vehicle was only worth $4,000 and it sustained $6,000 worth of damage, rather than pay to have your vehicle restored back to the condition it was in prior to the wreck, it will consider it totaled. When this happens, the type of insurance policy you or the at-fault party has will determine what you are eligible to collect.
When is another driver's insurer responsible for reimbursing me for my totaled vehicle?
When another driver is at fault for causing a collision, a claim is generally filed through their insurance policy as the State of Indiana follows at-fault insurance laws. So, let's say the driver who hit you was only carrying the minimum insurance requirements all drivers in the State of Indiana must have. Given that the state requires motorists to purchase at least $10,000 in property damage, you would be entitled to that $10,000 given your damage is valued at that amount.
When would I file a claim through my own insurance policy?
You may need to file a claim through your own insurance policy if one of the two circumstances arise:
In the event the other driver was at fault for causing the accident but didn't purchase enough insurance coverage to pay for your damage, then you may need to file a claim with your own insurance company in an effort to recover more. Usually, your underinsured motorist coverage is what you would use when these circumstances arise as its purpose is to pay for an accident when the at-fault party isn't carrying enough insurance coverage to pay for the damage he or she has caused.
You may also need to file an accident claim with your insurance company if you were at-fault for causing the accident. Generally, your collision coverage is responsible for paying for the repairs your vehicle needs after it has sustained physical damage in a crash, or if it was totaled, pay you for the actual cash value of your car. According to Allstate, your insurer will use one or more of the following to determine what your car's actual cash value is: its age, condition, mileage resale value, and the selling price of similar vehicles in your area.
In the event you were leasing your vehicle and still owe money on it after you receive reimbursement for the actual cash value, you will still be liable for this amount. Therefore, if this is the issue you are currently facing and would like to explore your options on how you can recover the money you need to not only repair your vehicle but also pay off what is still owed on your lease, contact IN car accident attorney Marshall P. Whalley. Marshall P. Whalley & Associates, PC can assist you with taking the necessary steps to help you collect the money you are actually due, not just what the insurer is willing to pay you.
If you would like to schedule an initial consultation now to speak with a trusted and dedicated Hammond, IN car accident lawyer, we encourage you to contact our office today.
Marshall P. Whalley & Associates, PC is located at:
51 W. 112th Avenue
Crown Point, IN 46307
Phone-219-769-2900
Toll Free-855-442-7211
Fax- 219-769-2995
Website: www.marshallslaw.com